The Cultural And Social Richness Of ANKARA
Anıtkabir and War of Independence Museum
Anıtkabir
Ataturk's eternal resting place, completed in 1953, is located in Anıttepe, formerly known as Rasattepe and his body was transferred there on 10 November of the same year.
The Hall of Honor is located in Anıtkabir where Ataturk's Mausoleum is located and in the area under the Hall of Honor the museum where Ataturk's personal belongings, panoramas and photos of the War of Independence are kept was opened to visitors in 2002.
Ankara Castle
The castle, although when it was built is uncertain, has Roman and Byzantine ruins and it is the place of first settlement in Ankara. The castle's height is 100 meters and 90% of the city could be seen from the castle. Besides being a historic place, it has also many cafes and restaurants.
Çengelhan Rahmi
Koç Museum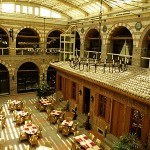 Ankara's first industrial museum is located in Çengelhan opposite the entrance of the Ankara Castle which was built in the Kanuni period.
Hamamönü
The bath was built on behalf of Karacabey in 1440 and today many events and festivals take place in Hamamönü. It is the home to old Ankara houses and there are also a lot of stores and restaurants.
In addition, Taceddin Dervish Convent (Mehmet Akif Ersoy Cultural Center), where Mehmet Akif Ersoy lived during the War of Independence and wrote the national anthem, and Sultan Mosque and tomb is located here.
Augustus Temple
The temple, which is next to the Hacı Bayram-ı Veli Mosque in Ulus, was built on behalf of Rome's first emperor Augustus as a commitment token in place of a temple built on behalf of Phrygian God Men in 25 BC. and monuments that the emperor's work was written is certified as Grade 1 Cultural Heritage in 1972.
Hacı Bayram-ı Veli Mosque
The mosque ,in ulus, was built in 1428. It took its name from Hacı Bayram-ı Veli's tomb situated in its garden. The mosque was opened for worship in 2011. The mosque's name Hacı Bayram-ı Veli trained many students such as Fatih Sultan Mehmet's mentor Akşemseddin.
Kocatepe Mosque
The mosque was completed in 1987 and reflects the style of Mimar Sinan – Sultanahmet Mosque. Its area is 4500 meter square and there is a conference room, a library and a shopping mall in it.
Gordion
Phrygian's capital, Gordion is 100 kilometers away from Ankara and 29 kilometers away from Polatlı. Artifacts found in the King's Road in the ancient city and King Midas's bones are exhibited in Gordion Museum in Polatlı.
Beypazarı
Beypazarı, 100 kilometers away from Ankara city center, has many ruins from different civilizations. The country is famous for its characteristic houses, Beypazarı kurusu, carrot delight, 80 layered baklava and silverwork
Beypazarı Living Museum is a place where certain traditions that belong to the Ottoman and early Republican period still survives. Many activities such as marbling art, shadow puppetry, linden pressure and woodwork are also performed here.
The Museum of Anatolian Civilizations
Ankara's first museum is built to the castle's donjon, called Akkale, by the supervision of the Director of Culture Mübarek Galip in 1921. With Ataturk's suggestion, other Hittite art objects were transferred to Ankara in order to build a 'Eti Museum' in the center so there was a need for a large place for a museum building. Kurşunlu Inn, which was an Ottoman building, and Mahmut Paşa covered bazaar was repaired and came into use as the museum. In years, the museum underwent a lot of restorations and it has been serving one of the world's leading museums since 1921.
Necatibey Location. Gözcü Street No:2 Ulus
Ethnography Museum
It is the first state museum which is located in Namazgah, a place used for Friday prayers during the Independence War, and whose plans were made during the Republic period. The museum is Ataturk's first eternal resting place and it has been a home to a rich collection of various religious and national art objects since 1925.
Hacettepe LocationTürkocağı Street No:4 Opera
State Art and Sculpture Museum
It was built in 1927 and firstly it served as a community home and was converted into a museum in 1980. Many Turkish works of art, dated from prior to Republic to today, are exhibited here.
https://www.kultur.gov.tr/genel/SanalMuzeler/ResimHeykelMuzesi/index.html
Opposite the Opera House, Talat Paşa Boulevard, Ulus
Pembe Mansion
Second President İsmet İnönü lived here between 1925-1973 and it is one of the oldest houses in Ankara and it hosted Ankara's first ball, concert and exhibition. It is open for visitors for free every year twice; one month in April - 23 April- and one month in October -29 October.
Şehit Ersan Street No: 14 Çankaya
Atatürk's House During the National Struggle and Railway Museum
This building, which Ataturk lived when he came to Ankara, was converted into a museum in 1964.
TCDD General Directorate Building Station
1. TBMM Building
The first Parliament building in Ulus square was completed in 1920 and was in use for four years; it was converted into 1. TBMM (Grand National Assembly of Turkey) Museum in 1961 and in 1981 it took the name the Museum of Independence War.
State Cemetery Museum
The museum, which is located in Atatürk Forest Farm and items of deceased presidents and Independence War commanders are exhibited, opened in 1988.
Ulucanlar Prison Museum
It was opened for use in 1921 and closed in 2006; Altındağ Municipality restored the building and it was opened as a museum to visitors. It bears witness to Turkish political life. (Şükriye Location. Ulucanlar Street. No: 63 Altındağ)
Cermodern
It is the first modern art center and it was opened in 2010. The museum of modern art has the largest exhibition hall (4500 meters square area) and the place hosts a lot of artistic events.
Altınsoy Steet. No:3 Sıhhıye
Ankara University Faculty of Educational Sciences "Toy Museum"
The museum was opened in 1990 and serves as a research and education center with its domestic and foreign about 1500 toys.
Ankara University Faculty of Educational Sciences Cemal Gürsel Street, Cebeci
Atatürk Farm Forest
The farm was established in 1925 and was declared a 1. Degree natural projected area in 1991. In the area, there is a zoo, Atatürk House, museum and exhibition hall, historic Black Sea pool as well restaurants and picnic areas.
Kuğulu Park
Located in Kavaklıdere, the park was created in 1958. It gets its name from the swans given as a present from Vienna Municipality. Many events take place here.
Lake Eğmir
Lake Eğmir's land belongs to METU (Middle East Technical University) and the area was planted with trees in the 1960s. The control of the area belongs to METU. There are fishing and cycling activities and there are picnic areas and kiosks.
Gençlik Park
It was created in 1943 and has an area of 2755.000 m2. There is a theater, amusement park, pond and cafes and restaurants.
Göksupark
It is located in Eryaman and the park was created in 100 days and has an area of 508.000 m2. There is a pond, cruise ship and boats, mountain sleds and restaurants and cafes.
Lake Mavi (Bayındır Dam)
It is located on Samsun Highway and the park has 2400m2 area. It has picnic areas, sports facilities and restaurants.
Altınpark
There is an exhibition center, Feza Gürsey Science Center, Olympic size swimming pool, restaurants and picnic areas in the park located in Altındağ and the park has an area of 640.000m2.
50. Yıl Park
The park is in Cebeci and it is known as observation terrace of Ankara. It has an area of 135.000 m2 and there are restaurants, cafes and an amusement park. Turkey's tallest flagpole -120 meter long- is also here.
Harikalar Diyarı
Europe's largest park has the area of 1.320.000 m2 and it is created in Sincan district. It has a pond, paddle boats, picnic areas, go-cart, sports fields and amphitheater.
Estergon Castle
Estergon Castle and Turkish Culture Center is located in Keçiören and was opened in 2005. It has Ören Mansion, Ethnography Museum, restaurants as well as an observation terrace and cable cars.
Karagöl
This crater lake is in Çubuk and 74kms away from Ankara. It was registered as a Natural Park in 2011 and has picnic areas.
Elmadağ
It is 41kms away from Ankara and has a ski resort and accommodation facilities.
Panorama of the Ankara